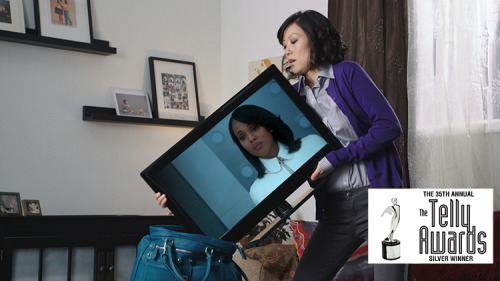 Last fall we created a really fun campaign for ABC to promote their Watch ABC App. The premise of the campaign is: "there's an easier way to take your TV with you" and features people humorously trying to carry large flatscreen TVs around, including one woman who tries to stick her living room TV into her purse!
The campaign recently won a Silver Telly Award and we are so excited!
The Telly Awards was founded in 1979 and is the premier award honoring outstanding local, regional, and cable TV commercials and programs, the finest video and film productions, and online commercials, video and films.  Winners represent the best work of the most respected advertising agencies, production companies, television stations, cable operators, and corporate video departments in the world.
A prestigious judging panel of over 500 accomplished industry professionals, each a past winner of a Silver Telly and a member of The Silver Telly Council, judged the competition, upholding the historical standard of excellence that Telly represents.  The Silver Council evaluated entries to recognize distinction in creative work – entries do not compete against each other – rather entries are judged against a high standard of merit.  Less than 10% of entries are chosen as Winners of the Silver Telly—Telly's highest honor.